Guide to Amazon's Dietary Supplement COA Requirements

AEMTEK Inc.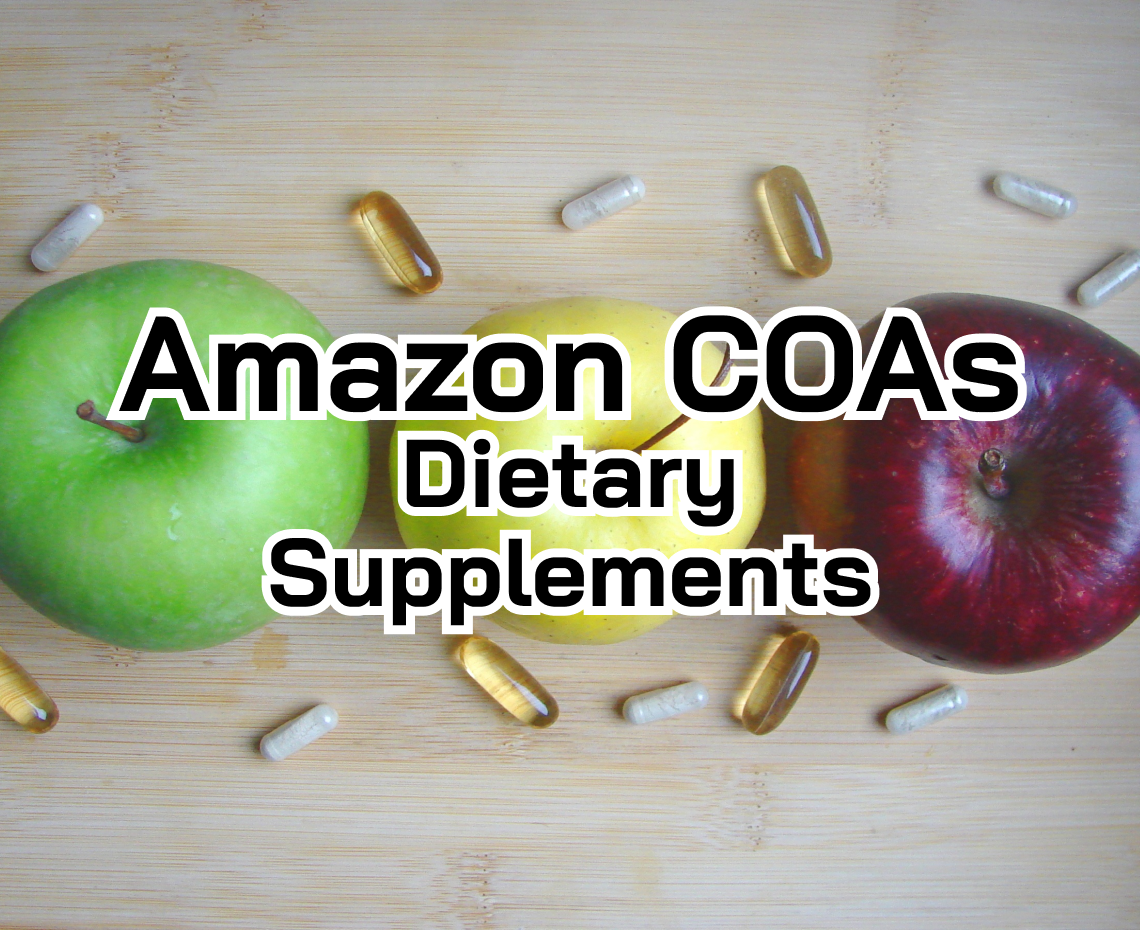 Amazon has introduced Certificate of Analysis (COA) requirements for a number of product categories over the past few years, including Dietary Supplements. In response, AEMTEK has put together this guide to help you navigate and meet Amazon's Dietary Supplement COA requirements so you can continue providing your clients with excellent products!
Amazon's Requirements for Dietary Supplement COAs
Amazon states that for Dietary Supplements, you must submit a Certificate of Analysis (COA) from an ISO/IEC 17025 accredited laboratory for each dietary supplement you are applying to list and a letter of guarantee from the manufacturer.
1) COA From an ISO 17025 Accredited Laboratory
ISO 17025 Accreditation
The Certificate of Analysis must be from an ISO 17025 Accredited Laboratory (such as AEMTEK).
View AEMTEK's Accreditation Documents
Required Contents of the COA
Amazon states that the COA must contain the following information:
Product name
Batch/lot number or date code of the product sample tested
Name and address of the accredited laboratory
Name and address of the manufacturer or distributor.
Quantitative analysis that supports the active ingredient concentration as claimed on the supplement facts panel

The active ingredient name(s) on the supplement facts panel

must match

the active ingredient name(s) on the COA.
The concentration units on the supplement facts panel (e.g., mcg/mg) must

match

the unit of measure on COA.

The scientifically-validated laboratory method used for each reported result
Additional COA Requirements
Issued Within the Past 6 Months
The COA submitted to Amazon must have been issued within the past six months.
Non-expired Product
The product sample analyzed for the COA must be unexpired. Amazon will not accept a COA with laboratory test results of expired products.
Product Images
The COA must be accompanied by legible product images that meet the following requirements:

Have all sides of the product label visible, including batch/lot number or date code.
Have a clear image of the (1) supplemental or nutritional fact panel and (2) ingredient list.
Contain the name and address of the company.
Contain the product name.


2) Letter of Guarantee
Amazon requires that you submit the COA along with a letter of guarantee issued from the product manufacturer. The letter of guarantee must meet the following requirements:
Must be on the official manufacturer's letterhead.
Contains complete product name as listed on label and labeling.
Contains assurance that the product is manufactured under current Good Manufacturing Practices as listed in 21 CFR Part 111.
Contains assurance that only lawful and safe, as defined in section 402 (f) of the FD&C Act, ingredients are utilized.
Contains assurance that the concentration of active ingredient(s) as stated on the label and labeling is safe for consumption.
Should I use AEMTEK for a Dietary Supplement COA?
AEMTEK has a standard Dietary Supplement Testing Panel used to generate a COA. AEMTEK's testing panel is the right choice for those who, in addition to meeting Amazon's Dietary Supplement requirements, want to:
1. Ensure the
safety and quality

of products by including microbial testing

AEMTEK's standard dietary supplement panel includes the complete USP <2021> and USP <2022> panel recommended by the FDA to ensure the safety and quality of dietary supplement products. Most major retailers require this testing panel, so if you wish to sell your product through additional distribution channels outside of Amazon's marketplace, you will likely need this as part of your COA.

At this time, AEMTEK does not perform active-ingredient-only testing for COAs, except for probiotic products.
2. Ensure the
validity and accuracy

of test results

At AEMTEK, we require all dietary supplement products to undergo one-time method suitability testing at our laboratory. This is because standard methods have been found to produce inaccurate testing results for dietary supplements due to the properties of their unique blends of ingredients. In response, the industry's retailers have started to require proof that the methods used for testing have been validated for each product. Recently, retailers have also been requesting method validation reports.

Method suitability is the testing by which we determine and validate a suitable testing method for each dietary supplement product that comes through our doors. This allows us to ensure that we always provide valid and accurate test results to our clients.
Contact Us to request a quote for a Dietary Supplement COA